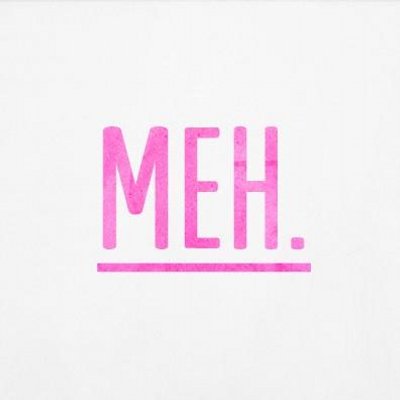 That's how I was feeling at this week's weigh-in.
I step on the scale every Saturday morning at the 8:15am Weight Watchers meeting, which means my Friday nights are generally tame.  I usually go home, have a light dinner, put on some comfies and relax.  As boring as it sounds, that's my ideal Friday night.  It's nice to unwind and veg after a typically crazy week of running around and working my butt off … not literally, unfortunately 😉
However, this past Friday night was different.  We went to a going away dinner for a friend who is taking on a new job in a new province, so I was in the mood the celebrate.  I didn't go crazy or anything, but ate more than I typically would on a Friday night before weighing-in.
That's why I was kinda "meh" when I was told I had gained 0.6lbs this week.  Sure I was disappointed when I saw that I went up instead of down, but I was kinda expecting it.  And sometimes it's worth it.
The more disappointing part of my weekend was that I used being up on the scale as an excuse to feel sorry for myself, which lead to questionable decisions.
I indulged WAY more than I should have (ahem … chocolate, chips, Thai food, nachos, beer) and also didn't make it to the gym, even though I promised myself that I would.
I hate that I sabotaged myself.  But the pity party is OVER.
I will track and eat within my points this week … I will make it to the gym … and I WILL see success this Saturday on that scale.
Wish me luck!
~ Jackie
My Weight Loss Stats
This Week: up 0.6lbs
Total Lost in 2015: down 0.7lbs
Left to Lose: 13.1lbs